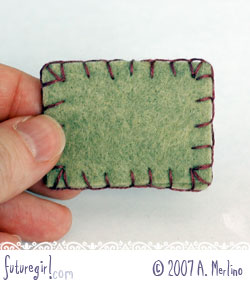 FutureGirl has added a new hand stitching felt tutorial to her blog for which the Best! Firstly she covers the blanket stitch. The best thing is she tells you what to do when you run into trouble... like corners! and circles, and what to do when you run out of thread. This tutorial is a must see. Be sure to bookmark it.

Best blanket stitch tutorial in the world.

There are also a couple of other tutorials which are good value.
The whip stitch
How to embroider on felt

have fun...